What's left out of a product is just as important as what goes in
Whole Food & Plant Powered 
Ingredients From Mother Earth
Super Powered Protein
Body Boosting Superfoods
Nourishing Greens
Essential Electrolytes
ORGANIC EGG WHITES

Loaded with 9 essential amino acids and one of the highest protein digestibility scores on the planet, so you can rest easy knowing your protein shake is actually being used by your body!

ORGANIC SACHA INCHI PROTEIN

These protein-packed "mountain peanuts" are omega-3-rich for optimal heart health, and loaded with tryptophan which helps regulate mood and appetite.

ORGANIC HEMP PROTEIN

One of the planet's healthiest protein sources, loaded with essential minerals like magnesium, iron, and copper—which all help muscles grow and recover faster from exercise.
ORGANIC MACA ROOT

A potent plant root packed with essential nutrients like vitamin C and potassium. Used for centuries to help improve energy and reduce stress, while helping build muscle and boost brain function.

ORGANIC ACAI

The Brazilian superfood famed for its rich antioxidant properties, known to help reduce inflammation and oxidation, which can help free up the body for more natural energy and brain health.

ORGANIC GOJI BERRIES

Used in traditional medicines for centuries thanks to its high fiber content and essential nutrients, and has been said to help boost vital organ health, eye health, and immunity.

ORGANIC BEE POLLEN

Contains more than 250 healthy active compounds, including amino acids, vitamins, minerals, and more. High in antioxidants,it has been shown to help reduce inflammation, fight harmful bacteria,and even fight infections.

ORGANIC CHIA SEEDS

Chia seeds are loaded with beneficial nutrients that can help improve energy and stabilize blood sugar.

ORGANIC FLAX SEEDS

Flax seeds are known for their high omega-3 fatty acid content, but they're also rich in beneficial fiber and antioxidant-like lignans.

ORGANIC BLUEBERRIES

Another antioxidant powerhouse, blueberries are high in potassium and vitamin C, helping to lower inflammation, promote heart health, maintain brain functions, and help prevent aging.

ROYAL JELLY

Royal jelly is said to reduce inflammation and oxidative stress with its unique array of vitamins, trace minerals, and antioxidants.
ORGANIC SPIRULINA

An incredibly nutritious and antioxidant rich algae loaded with B complex vitamins, manganese, selenium, and many more body boosting nutrients. Known to help reduce inflammation, blood sugar, cholesteroland blood pressure.

ORGANIC CHLORELLA

Another algae superfood loaded with essential nutrients like vitamin B12 vitamin C, antioxidants, and brain-boosting omega-3s. May help strengthen immunity, lower blood sugar, and enhanceaerobic endurance.

ORGANIC SPINACH

One of the most bioavailable natural sources of vitamins K, A, and C, magnesium, and iron. These nutrients help prevent oxidative damage in bones, and protect eye health.

ORGANIC KALE

Leading competitor for the most nutrient-dense plant on Earth thanks to off-the-chart anti-inflammatory properties and nutrients like vitamin A, beta carotene, calcium, and potassium. Shown to help flush out dangerous toxins from your body, regulate health systems, and boost immunity.

ORGANIC BROCCOLI

Broccoli is packed with a number of nutrients, including a potent antioxidant called sulforaphane. Sulforaphane may lower oxidative stress, reduce inflammation, and even help with blood sugar control.
ORGANIC COCONUT

Ultra-rich in electrolytes that help restore hydration and critical nutrients lost during exercise. It's extremely high in potassium, which helps regulate fluid balance, muscle contractions, and nerve signals.

ORGANIC BANANA

Rich in potassium that helps replenish minerals essential for heart health, muscle contraction, and more. Also great for making banana bread — which Rootz Protein Superfood kinda tastes like!
See anything you don't recognize? Probably not…
We only use whole-food ingredients that nourish your body!
Don't Just Take Our Word For It!
Cheryl S.
"I've tried a lot of dairy-free protein powders, and to me, this one tastes the best hands down. It reminds me of the sweet cereal milk from when we were kids! I also love that there is no flavoring or sugar added, and it's just tasty on its own."
Nicole T.
"The Rootz Protein Superfood is so clean and tasty that I even give it to my toddler! I feel good knowing he's getting his daily dose of proteins, greens, fruits, and superfoods in a shake that he loves and he drinks it right out of the blender!"
Donna L.
"I've been putting the Protein Superfood in my morning smoothie every day for two months now and I notice a huge difference in my energy and physique. Also doesn't hurt that it literally tastes like Reese's pieces!"
Kim P.
"It tastes really, really, really good. It reminds me of Cinnamon Toast Crunch, but like… super healthy."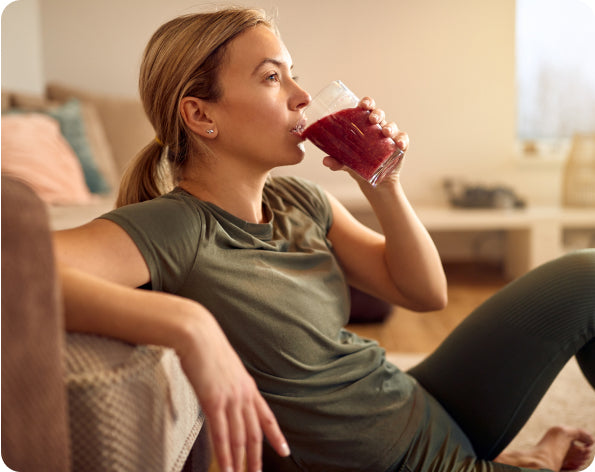 You'll LOVE Rootz Protein Superfood if…
You want to easily take care of your daily protein and nutritional needs.
You want a protein powder with 100% real whole-food ingredients.
You're sick of bland, boring, or chalky protein shakes.You're too busy to cook healthy meals every day.
You want to cut calories but still feel full and satisfied all the time.
buy now
Frequently Asked Questions
How do I use Rootz Protein Superfood?
Easy — however you'd like! Most people mix it with around 12 oz of unsweetened almond milk or other nut milks, but it's just as creamy and delicious mixed with filtered, icy cold water. 
But the options are endless… you can use it to instantly upgrade your smoothies, açai or smoothie bowls, baked goods or anywhere else you'd love some extra flavor, protein, and nutrients!
Why is it more expensive than some other protein powders?
2 words—no junk! Rootz Superfood Protein is one of the few protein shakes available with 100% whole food and plant powered ingredients. No cheap filler ingredients or chemical gunk that other brands use to cut corners on providing health in a tasty way.
ALSO, Rootz Protein Superfood is more than just a protein shake—thanks to the greens and superfood blends, you're getting a 3-in-1 on every shake, so you don't have to buy additional supplements or blends.
What is sacha inchi?
Sacha inchi is a nutrient-dense seed from Peru. Unlike many other plant-based proteins, it is a complete protein, offering all the essential amino acids your body needs to thrive. It looks and tastes like a nut, but it should be ok for people with nut allergies because it's technically a seed. As always, consult your doctor before trying new foods and supplements.
What if I hate the taste of stevia?
Good news — you'll still LOVE Rootz Superfood Protein. Why? Most stevia sweeteners are highly processed with additives and fillers that contribute to the bitter aftertaste. We use 100% ground stevia leaf with no added surprises,  and we use so little that you get all sweetness without the bitterness!
What if I don't exercise?
Great question! Whether you are a professional athlete or a busy parent, protein is essential to muscle growth and body maintenance—you don't have to lift heavy things or sweat profusely to get the many healthy benefits from using Rootz Protein Superfood.