The beginning of my health and fitness journey
To fully tell the story of Rootz, I'd have to go back to the beginning of my health and fitness journey… when I was 13 years old. I remember my dad convinced me to tag along with him to his gym a couple times when I was in the 7th grade, and to this day, I still remember how exciting it was to discover this new hobby that I could do with my dad.
I became addicted to the feeling of euphoria after a hard workout, the challenge of trying to lift more and run faster than the previous session, and the gratification of looking in the mirror and seeing the positive changes that exercise had on my body...
My new favorite passion began to evolve over time. What started as 2 training sessions a week with my dad turned into going to the gym every day after school, paying better attention to the foods I was putting in my body, and even experimenting a bit with supplements....
I discovered a new pre-workout product
By the time I was in high school, I discovered a new pre-workout product that was very popular at the time. And let me just say.... WOW!!! That was a game changer. Even if I was absolutely exhausted, I would take one scoop, and 20 minutes later I was full of energy and ready to workout.
Before pre-workouts, I had a love/hate relationship with exercise. While I loved the results and the feeling of accomplishment when I was done, there were lots of times when the workout itself was miserable. But when I took this particular brand's product, even the workout itself was fun! I was stronger, faster, and full of energy.
And that wasn't even my favorite part of this new miracle powder I found... The best part was the mood it would put me in. I was focused, excited, and felt an overall sense of wellbeing.
I could keep going on about how great this product was, but I think you get the picture...
The devastating news
A couple months after I started taking this product, something devastating to my 17 year old high school self happened...
The product was BANNED in the United States for having ingredients that were so harmful to humans that they were no longer allowed to be sold!
That was eye opening and concerning to me on many levels:
What am I going to do now that I've had a taste of what it's like to exercise with this miracle powder?
What was I thinking taking something that was so unhealthy for me that it was actually made illegal shortly after I started taking it?
It made me realize that just because a product is sold as a health supplement, does not mean it is actually healthy.
I just gave up on pre-workouts all together
From then on, I started being much more aware of not only the quality of the foods I was eating, but also the supplements I was putting in my body.
After the realization that I could no longer take my beloved magical energy powder, I started trying some healthier/all natural pre-workouts.... Let's just say... they left a lot to be desired. They tasted bad, they didn't give me much energy, and they left me feeling jittery and crashing shortly after.
I tried brand after brand, and was disappointed every time. Eventually, I just gave up on pre-workouts all together.
The birth of the idea of Rootz

After about 5 years of taking no pre-workouts at all, I came up with the idea of Rootz.

A supplement brand that produces the highest quality products available, but only uses real, whole foods, and absolutely no harmful ingredients.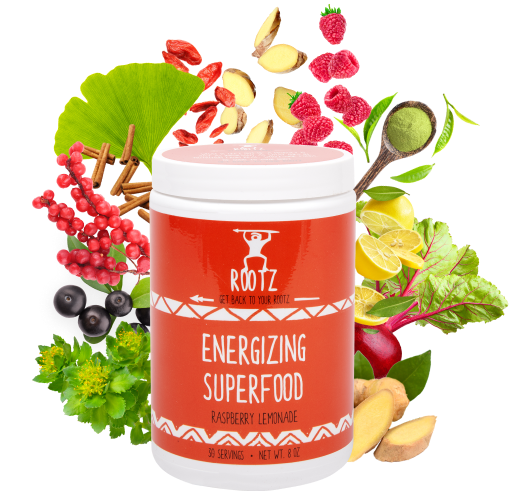 My first product idea was the Energizing Superfood.
The goal with that one was simple. Create something that mimicked the way I felt when I took that miracle powder, but only uses ingredients that will help improve your health, not be a detriment to it.
To this day, the Energizing Superfood was by far the most difficult product to create. There was so much trial and error with herbs that tasted awful, superfoods that wouldn't mix properly, and just not being able to quite duplicate that amazing feeling of focus and energy that I was aiming for.
After about a year of tinkering with the formula, I finally came up with something that I thought was perfect.

The taste was Raspberry Lemonade (with the flavor coming from real raspberries and real lemons instead of artificial flavorings and chemicals), and the feeling that I had about 20 minutes after taking a scoop wasexactly what I was aiming to create:
I knew then that I was ready to share it with all of you...

It's been almost 8 years since I released the Energizing Superfood, and it seems like a ton of you feel the same way I do about it, because it continues to be one of our most popular products!

I love to read the emails and reviews I get from customers about how much the product has helped them in their daily life. There is one review that will ALWAYS stand out to me... It was from a customer who said:
"I took one heaping scoop, and 20 minutes later I felt like Bradley Cooper in Limitless"
Not sure if you have seen Limitless, but it is about a guy who takes the ultimate super human pill to improve his energy, strength, and brainpower.

I absolutely LOVE that review, and have to say she's not wrong!!
get back to your rootz.
An entire line of supplements with the same sky high standards
While I started off with the Energizing Superfood, I have since created an entire line of supplements that was born from the same sky high standards as that first product.
We now have protein powders, products for anti-aging and beauty, immunity products, and much more. So basically… something for everyone.
With all of our products, you can feel good knowing that you are not putting any junk or harmful ingredients in your body… but still never sacrificing on taste or effectiveness.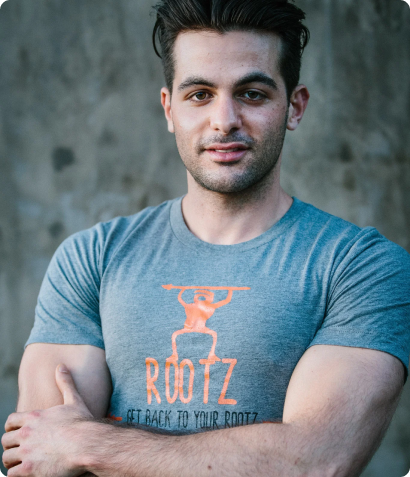 Thank you!
These products have helped me tremendously in my own personal health and fitness journey, and I hope they do the same for you.
Thank you so much for checking out Rootz, and if there is ever anything I can do for you, please don't hesitate to reach out.
- Harrison Levy
Founder of Rootz Nutrition
let's start!
Get Back to Your Rootz
healthy tips & Tricks

Insightful articles inspiring a healthy lifestyle for mind and body.

read rootz blog

bake with rootz

Homemade baked treasures using only healthy, real and whole food ingredients.

try our rootz recipes