What's left out of a product is just as important as what goes in
Whole Food & Plant Powered 
Ingredients From Mother Earth
Body Boosting Collagen
Metabolism Superchargers
Natural Ingredients
Organic Bovine Hide Collagen Peptides

One of the cleanest and most absorbable collagen sources available, and a "Fountain of Youth" used for centuries to help promote strong healthy hair and nails, restore supple glowing skin, and strengthen bonesand joints.
Organic Sacha Inchi Protein

This Amazonian superfood is packed with protein that provide energy and help muscle growth and recovery. They are also loaded with tryptophan, which helps regulatemood and appetite.

Organic Coconut Milk Powder

An amazingly rich source of antioxidants, nutrients, and healthy fats that provide all-day energy, hunger suppression, and even helps burn fat.

Organic MCT Oil Powder

A secret weapon of the health world that supercharges your metabolism, burns fat, boosts brain health, and nourish your gut.
Organic Cacao Powder

One of the most nutrient dense and antioxidant rich superfoods in the world. It also adds to the rich, velvety chocolate flavor of our chocolate collagen.

Organic Chocolate and Vanilla Extract

Enjoy the full, rich and delicious flavor of chocolate and vanilla without any of the harmful added chemicals usually added for powder flavoring.

Natural Monk Fruit Extract

The only all-natural sweetener with no aftertaste or digestive impact. It also keeps blood sugar stable and is said to be anti-inflammatory.

Natural Sea Salt

Provides a balanced flavor and helps you maintain optimal hydration and blood pressure levels. Sea salt can also help with digestion and even boost energy levels.
See anything you don't recognize? Probably not…
We only use whole-food ingredients that nourish your body!
Don't Just Take Our Word For It!
Antonio Brown
NFL superstar
Dawn S.
"As a gym owner and women's coach, and a self-professed "ingredient snob", I have tried and thrown away countless tubs of collagen powder. Most of them have a bad aftertaste, didn't mix well, or they left me feeling bloated.Rootz Collagen Superfood is by far, the most versatile and delicious collagen powder I have ever tasted. I love the chocolate in my morning coffee and the vanilla in my post-workout shake! This is a great way to feed my body what it truly needs to ward off aging while enjoying every sip!"
Shannon D.
"I still don't understand how this ACTUAL DESSERT SMOOTHIE has helped me shed my belly fat and the flab around my arms but it is INCREDIBLE. I look forward to drinking it every morning"
Amy P.
"I drink the collagen superfood blended with almond milk every morning, and it tastes so good I still don't understand how it is so healthy!"
Robert L.
"I've been pretty surprised about the results so far. I've been taking it for two weeks and my knees feel much better, and my skin looks much healthier"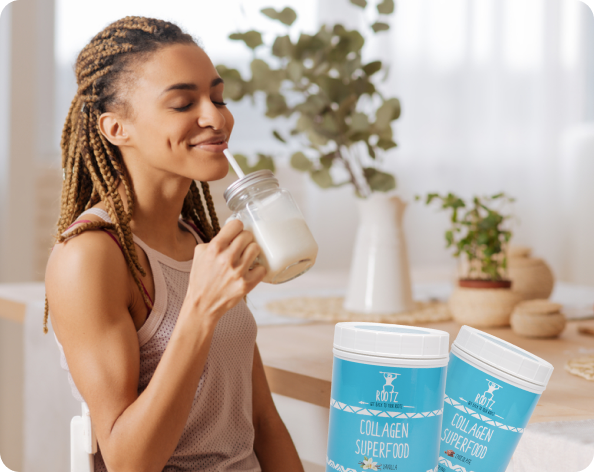 Not sure Rootz Collagen Superfood is for you?
Just ask yourself if…
You want to look and feel your youthful best.
You're looking for an easy and tasty meal replacement packed with collagen, protein, and nutrients.
You're sick of bland, boring, or chalky collagen supplements.
You're trying to shed unwanted fat and flab.
You'd like help slowing down your natural aging process.
buy now
Frequently Asked Questions
How do I use Rootz Collagen Superfood?
Easy — however you like! Most people mix it with around 12 oz of unsweetened almond milk or other nut milks, but it's just as creamy and delicious mixed with filtered, icy cold water. After that, the options are endless — you can use it to instantly upgrade your smoothies, açai or smoothie bowls, baked goods… wherever you can use the delicious flavor and health benefits.
Why is it more expensive than some other collagen powders?
2 words—no junk! Rootz Collagen Superfood is one of the few collagen supplements available with 100% whole food and plant powered ingredients. No cheap filler ingredients or chemical gunk that other brands use to cut corners on providing health in a tasty way.
ALSO, Rootz Collagen Superfood is more than just a collagen supplement—thanks to whole plant proteins, superfoods, and MCT oil, you're getting a 3-in-1 on every shake, so you don't have to buy additional supplements or blends.
What is sacha inchi?
Sacha inchi is a nutrient-dense seed from Peru. Unlike many other plant-based proteins, it is a complete protein, offering all the essential amino acids your body needs to thrive. It looks and tastes like a nut, but it should be ok for people with nut allergies because it's technically a seed. As always, consult your doctor before trying new foods and supplements.
What if I hate the taste of natural sweetners?
Good news — you'll still LOVE Rootz Superfood Protein. Why? We use natural monk fruit extract—the only all-natural and plant-derived sweetener without any aftertaste or digestive impact.
Does your collagen contain any caffeine or stimulants?
Nope! This product is 100% caffeine and stimulant-free.
What if I don't like Rootz Collagen Superfood, or don't see results?
Honesty, we'd be VERY surprised! But you can taste it and see for yourself. If you're not completely thrilled, you can ask for a full refund within 30 days.