What's left out of a product is just as important as what goes in
Whole Food & Plant Powered 
Ingredients From Mother Earth
Brain Superchargers
Body Boosters
Organic Ceremonial Grade Matcha

This famed tea-leaf is rich in L-theanine amino acids, antioxidants, and an ultra clean source of caffeine for jitter and crash-free energy, focus, relaxation, andimproved mood.

Organic Ashwagandha

An all-natural plant root used by millions of people across the world to aid in stress relief, focus, and mental calmness.

Organic Supershroom Blend

Lion's Mane, Cordyceps and Chaga are among the most potent health-boosting mushrooms, with documented medicinal use for centuries. They've been shown to help alleviate stress, enhance mood, fight inflammation, induce calmness, and even fight the signs of aging.
Organic Bovine Hide Collagen Peptides

One of the cleanest and most absorbable collagen sources available, and a "Fountain of Youth" used for centuries to help promote strong healthy hair and nails, restore supple glowing skin, and strengthenbones and joints.

Organic Coconut Milk Powder

An amazingly rich source of antioxidants, nutrients, and healthy fats that provide all-day energy, hunger suppression, and even helps burn fat.

Organic MCT Oil Powder

A secret weapon of the health world that supercharges your metabolism, burns fat, boosts brain health, and nourishesyour gut.
See anything you don't recognize? Probably not…
We only use whole-food ingredients that nourish your body!
Don't Just Take Our Word For It!
Kim F.
"I've tried a lot of matcha products, and to me this one tastes the best hands down. It's hard to explain but if you try it you will know! I also love that there is no stevia added, and it's just tasty on its own."
Donna L.
"Every night when I go to bed, I look forward to drinking my Matcha Superfood in the morning. Not only does it taste incredible, but it leaves me feeling focused and energized for hours."
Alex G.
"Love the way this product makes me feel. 10 minutes after taking it I am focused, energetic, and in an all-around good mood without any jitters. I love taking it at work for a midday pickme up."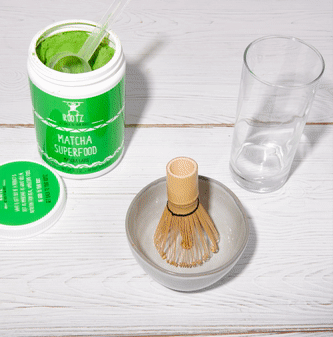 Wondering if Rootz Matcha Superfood is for you?
Just ask yourself if…
You're looking for a tasty coffee replacement.
You want all-day energy, focus, and motivation without any caffeine crashes or jitters.
You want 8 superfoods without spending a lot of money on separate supplements. 
You'd like to give your body and mind a daily all-natural boost.
buy now
Frequently Asked Questions
What does Rootz Matcha Superfood taste like?
It seriously tastes just like a creamy matcha vanilla milkshake. Sweet matcha combined with creamy coconut milk tastes so good on its own that we didn't even have to add any sweeteners or flavors!
When should I take Rootz Matcha Superfood?
We highly suggest trying it in the morning instead of coffee. You can also take it as a midday pick me up at work, before exercise, or any other time when you want to feel energetic, calm, and focused.
How should I take the Matcha Superfood?
Just add water, milk, or a milk alternative and enjoy. It tastes great hot or cold, and you can also use it as an instant health and flavor upgrade to your smoothies or any baking you do!
What if I don't like Rootz Matcha Superfood, or don't see results?
Honesty, we'd be VERY surprised! But you can taste it and see for yourself. If you're not completely thrilled, you can ask for a full refund within 30 days.