What's left out of a product is just as important as what goes in
Whole Food & Plant Powered 
Ingredients From Mother Earth
Energy and Strength Blend
Metabolism Blend
Anti-Inflammation Blend
Body Boosting Superfoods
Yerba Mate Extract

This South American herbal tea is rich in vitamins, minerals, and antioxidants that supportstrength and training recovery. It's also a very clean source of caffeine for smooth energy boosts without any crashes.

organic Guarana

An Amazonian superfood rich with antioxidants, tannins, saponins, and theobromine. It provides slow-releasing sustained energy and improved focus, and generally enhances physical and mental performance.

Organic Rhodiola

A newly celebrated superfood that has been used and recommended to help provide sustained daily energy, cognitive function and stress support.

Organic Asian Ginseng

Used for centuries in traditional eastern medicine, this potent and nourishing root is loaded with ginsenosides which boost energy, cognitive function, and immunity. It also contains essential  amino acids, vitamins, and minerals like zinc whichhelp support repair and management systems in the body.

Ginkgo Biloba

Used medicinally for centuries thanks to its potent flavonoid, antioxidant, and terpenoid properties that have been shown to help improve blood flow, protect neurons, improve circulation, and reduce anxiety.

organic Tongkat Ali Root

Loaded with an array of nutrients and compounds like quassinoids and  glycoproteins, this South East Asian root has been shown to boost libido levels and muscle growth, while aiding in improving energy and stamina. 

organic Schizandra Berry

These humble but powerful berries offer lignans, which have adaptogenic properties that the body adapt to stress. They also contain vitamin C and E which help support skin health.
organic Raspberry

These berries are loaded with dietary fiber, vitamin C, and manganese which have been shown to aid in digestion, boost immunity, and support bone health.

organic Lemon

One of the richest sources of vitamin C on earth. This humble fruit is packed with potassium, folate, and flavonoids which support heart health, cell division, and antioxidants that fight against freeradicals in the body.

organic Matcha Green Tea

This famed tea-leaf is rich in L-theanine amino acids, antioxidants, and an ultra clean source of caffeine for jitter and crash-free energy, focus, relaxation, andimproved mood.

organic Yohimbe Bark

This often overlooked natural plant ingredient is rich with yohimbine, a lesser-known alkaloid which has been shown to increase metabolism and support fat loss, and also acts as a natural stimulant.
organic Beetroot

Contains a powerhouse of performance-supporting nutrients like nitric oxide, manganese, folate, and vitamins B6 and C. Altogether, the potent properties of beetroot help enhance blood flow and oxygen supply, improve exercise performance, and lower blood pressure.

organic Turmeric

An ancient plant root filled with phytonutrients that support and strengthen immunity, reduce inflammation, and ease digestion. Now in an organic form for better bioavailability.

organic Ginger

Turmeric's close cousin with extraordinary antioxidant and anti-inflammatory properties and anti-nausea properties that help bolster immunity, reduce inflammation, and soothe the mind.

organic Devils Claw

A plant often used in herbal medicines,and for good reason. It is loaded with harpagosides, which are renowned for their potent anti-inflammatory effects, which can potentially help to relieve bone andjoint pains.

organic Cinnamon

Loaded with flavonoids that help your body's cells defend against oxidative stress. Also packed with potent anti-inflammatory, anti-fungal, and anti-microbial properties that help your body resist and ease cold and flu symptoms.
organic Goji Berries

Used in traditional medicines for centuries thanks to its high fiber content and essential nutrients, and has been said to help boost vital organ health, eye health, and immunity.

organic Blueberries

Another antioxidant powerhouse, blueberries are high in potassium and vitamin C, helping to lower inflammation, promote heart health, maintain brain functions, and help prevent aging.

organic Acai

The Brazilian superfood famed for its rich antioxidant properties, known to help reduce inflammation and oxidation, which can help free up the body for more natural energy and brain health.

organic Maca Root

A potent plant root packed with essential nutrients like vitamin C and potassium. Used for centuries to help improve energy and reduce stress, while helping build muscle and boost brain function.

organic Bee Pollen

Contains more than 250 healthy active compounds, including amino acids, vitamins, minerals, and more. High in antioxidants,it has been shown to help reduce inflammation, fight harmful bacteria,and even fight infections.

Organic Royal Jelly

Royal jelly is said to reduce inflammation and oxidative stress with its unique array of vitamins, trace minerals, and antioxidants.
See anything you don't recognize? Probably not…
We only use whole-food ingredients that nourish your body!
Don't Just Take Our Word For It!
Alex A.
"I took one heaping scoop and 20 minutes later I felt like Bradley Cooper in Limitless."
Dawn P.
"This is the only pre-workout that actually makes me feel good. Absolutely no jitters or tingles, just clean, focused energy."
Dylan S.
"It gives me incredible focus and strength in the gym, but my favorite part is how it puts me in a good mood every time I take it."
Sam G.
"I don't even exercise, but I take this whenever I need to focus for work or just need energy for the day. The way I feel 20 minutes after taking a scoop is unparalleled."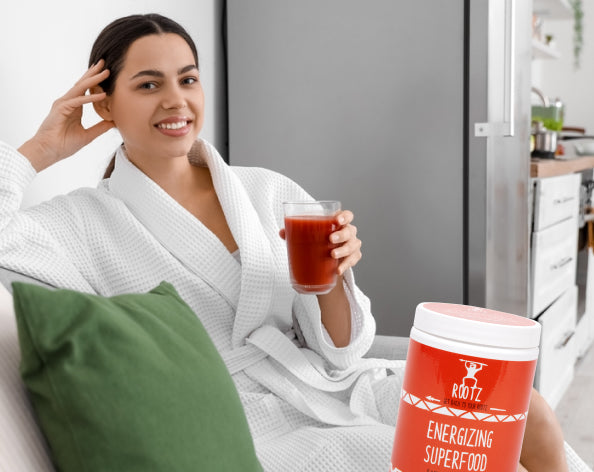 Rootz Energizing Superfoods is for you if you…
Want a delicious energy drink that's 100% natural and sugar-free.
Need a smooth energy and strength boost before your workouts.
Need an afternoon pick-me-up without any crashes or jitters.
Enjoy seeing visible results from your workouts faster.
buy now
Frequently Asked Questions
What does Rootz Energizing Superfood taste like?
It tastes like a hydrating and subtly sweet raspberry lemonade.
When should I take Rootz Energizing Superfood?
You can sip this whenever you'd like! It's great first thing in the morning to get your day started, during the day at work as a pick-me-up, perfect as an all-natural pre-workout, or any other time you want strength, energy, and focus without any nasty chemicals or sugars.
How should I take Rootz Energizing Superfood?
Just mix one scoop with 8-12 oz of water, or seltzer for a delicious and refreshing raspberry lemonade drink.
What if I hate the taste of stevia?
Good news — you'll still LOVE Rootz Energizing Superfood. Why? Most stevia sweeteners are highly processed with additives and fillers that contribute to the bitter aftertaste. We use 100% ground stevia leaf with no added surprises,  and we use so little that you get all sweetness without any bitterness!
What if I don't exercise?
Great question! Whether you are a professional athlete or a busy parent, Rootz Energizing Superfood can help you enjoy clear focus, better mood, and all-day energy, so you can still reap the benefits without breaking a sweat.
What if I don't like Rootz Energizing Superfood?
No worries! You can taste it for yourself, risk-free. If you're not completely thrilled, you can ask for a full refund within 30 days.