What's left out of a product is just as important as what goes in
Whole Food & Plant Powered
Ingredients From Mother Earth
Ancient Immunizers
Cold and Flu Defenders
Superfood Supporters
Organic Turmeric

An ancient plant root filled with phytonutrients that support and strengthen immunity, reduce inflammation, and ease digestion. Now in an organic form for better bioavailability.

Organic Ginger

Turmeric's close cousin with extraordinary antioxidant and anti-inflammatory properties and anti-nausea properties that help bolster immunity, reduce inflammation, and soothe the mind.

Organic Cinnamon

Loaded with flavonoids that help your body's cells defend against oxidative stress. Also packed with potent anti-inflammatory, anti-fungal, and anti-microbial properties that help your body resist and ease coldand flu symptoms.

organic Lemon

One of the richest sources of vitamin C on earth. This humble fruit is packed with potassium, folate, and flavonoids which support heart health, cell division, and antioxidants that fight against freeradicals in the body.

Organic Asian Ginseng

Used for centuries in traditional eastern medicine, this potent and nourishing root is loaded with ginsenosides which boost energy, cognitive function, and immunity. It also contains essential  amino acids, vitamins, and minerals like zinc whichhelp support repair and management systems in the body.
Organic Astralagus

A herb with potent antibacterial and anti-inflammatory properties, used to boost immunity and prevent colds and upper respiratory infections.

Organic Elderberry

Packed with antioxidants and nutrients like vitamin A and C that experts use and recommend to help boost immunity and prevent andeasecold and flu symptoms.
Organic Ashwagandha

An all-natural plant root used by millions of people across the world to aid in stress relief, focus, and mental calmness.

Organic Supershroom Blend

Lion's Mane, Cordyceps and Chaga are among the most potent health-boosting mushrooms, with documented medicinal use for centuries. They've been shown to help alleviate stress, enhance mood, fight inflammation, induce calmness, and even fight the signs of aging.

Organic Rhodiola

A newly celebrated superfood that has been used and recommended to help provide sustained daily energy, cognitive function and stress support.

Organic Coconut Milk Powder

An amazingly rich source of antioxidants, nutrients, and healthy fats that provide all-day energy, hunger suppression, and even helps burn fat.

Organic Bee Pollen

Contains more than 250 healthy active compounds, including amino acids, vitamins, minerals, and more. High in antioxidants,it has been shown to help reduce inflammation, fight harmful bacteria,and even fight infections.

Royal Jelly

Royal jelly is said to reduce inflammation and oxidative stress with its unique array of vitamins, trace minerals, and antioxidants.
See anything you don't recognize? Probably not…
We only use whole-food ingredients that nourish your body!
Don't Just Take Our Word For It!
Debbie G.
"It feels great to know I am getting immune support from natural superfoods and not over the counter medication."
Angela S.
"I drink the Golden Milk Immunitea every night before bed. It's a tasty treat I look forward to, and helps me wind down and relax."
Amanda W.
"Tastes incredible and is a lifesaver for me and my kids during flu season... The most powerful medicine truly does come from the earth!"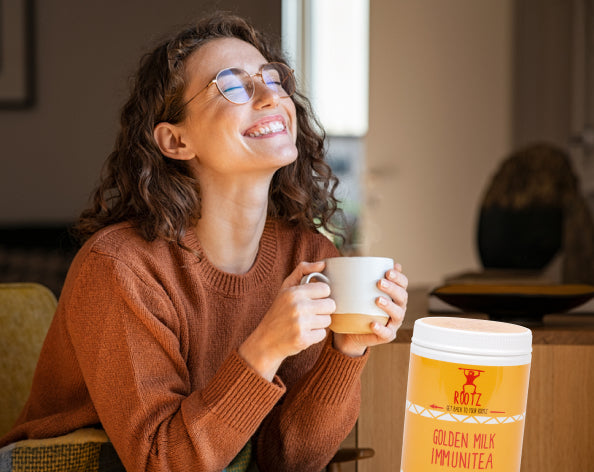 You'll LOVE Rootz Golden Milk Immunitea if you…
Want to give your body extra daily immune support.
Suffer from low mood and could use a little pick-me-up.
Spend too much on separate supplements and want 15-in-1 instead.
Want to defend yourself from colds, the flu, and other bugs.
buy now
Frequently Asked Questions
What does Rootz Golden Milk Immunitea taste like?
It tastes just like a turmeric vanilla milkshake. Thanks to ginger and creamy coconut milk powder, it's so rich and sweet on its own that we don't even have to add any sweeteners or flavors!
When should I take Rootz Golden Milk Immunitea?
You can sip this superfood blend whenever you'd like! It's great as a daily booster to maintain and strengthen your immunity, and mood. You can also use it when you need extra protection, or want help easing cold and flu symptoms.
How should I take Rootz Golden Milk Immunitea?
Just mix one scoop with 6-8 oz of water, milk, or a milk alternative. It's best served hot, but you can definitely enjoy it cold, too.
What if I don't like Rootz Golden Milk Immunitea?
No worries! You can taste it for yourself, risk-free. If you're not completely thrilled, you can ask for a full refund within 30 days.